News
So you think you can Shoutcast? Blackshot Needs you!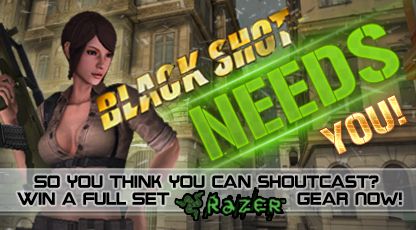 Attention Shooters,

You think you can Shoutcast?

Stand out and win yourself a full set of Razer Gears!

You've seen it in Tournaments, Online Streams, or even live broadcasted throughout your FPS gaming years. And you know, a good Shoutcaster has the ability to create an atmosphere filled with excitement and adrenaline. Bringing the ultimate live experience to the audiences and make interesting commentaries throughout the entire match. Without one, even the most exciting matches held onsite will lose its vibrant.

Do you have what it takes to be our Blackshot Shoutcaster?

Stand a chance to feature your talent in Blackshot major events such as Garena Carnival and Champions Pride Finale!

Record a short clip of you shoutcasting a Blackshot match and send it to us here!
*Two outstanding Shoutcaster will be selected for this event.

If you have what it takes to be one, BlackShot needs you!

Criteria:
1 - At least 15 years old 
2 - Singapore resident 
3 - Good command in English
4 - Adequate knowledge on Blackshot Online

Interested to know more? refer to the following video;

http://www.youtube.com/watch?v=GtLEW...feature=fvwrel

*Shoutcasting starts at 01:00min.


Rolling Out
Team Blackshot


Full set of Razer Gears (S$300) is consist of;
Electra Headphones 
Arctosa Keyboard
Deathadder Mouse
Goliathus Mousepad

*Open to all Shooters that is based in Singapore only.
Posted on: 10-22-2012
Comments